AMD's Ryzen Threadripper chips could very well be the most powerful consumer CPU ever introduced when it releases in August. With up to 16 cores and 32 threads, Threadripper gives the high-performance Intel products currently dominating high-end desktops something to worry.
The specs we know
The Ryzen Threadripper 1950X ($999 on Amazon) features 16 cores with simultaneous multi-threading (SMT) for 32 threads of compute power. The base clock speed of the chip is 3.4GHz, with a 4GHz boost speed.
The Ryzen Threadripper 1920X ($799 on Amazon) will feature 12 cores with SMT for 24 threads of compute power. The base clock speed of the chip is 3.5GHz with a 4GHz boost speed.
The Ryzen Threadripper 1900X will feature 8 cores with SMT for 16 threads of compute power, similar to the Ryzen 7 1800X but slotting into more capable X399 motherboards. The 1900X's base clock speed is 3.8GHz with a 4GHz boost speed.
All Threadripper chips pack a whopping 64 PCI-E lanes
Memory: Quad-channel DDR4
Platform: X399 with a new TR4 socket that is incompatible with existing Ryzen chips.
All chips are unlocked for overclocking adventures.
Can't be "delided" easily as it uses a solder thermal interface material.
Release date: Threadripper PCs will be available for sale on July 27. The Threadripper 1950X and 1920X CPUs will launch on August 10, with the 1900X releasing on August 31.
Alienware has the worldwide exclusive on Threadripper systems among large PC manufacturers, but many U.S. boutique builders will offer it as well.
Both parts will be 180 watt TDP chips.
Ryzen Threadripper CPUs will support up to 1TB of RAM when 128GB LR-DIMMs are used.
Threadripper will not ship with an included liquid-cooled cooler as has been rumored. It will include a bracket adapter that works with most liquid coolers.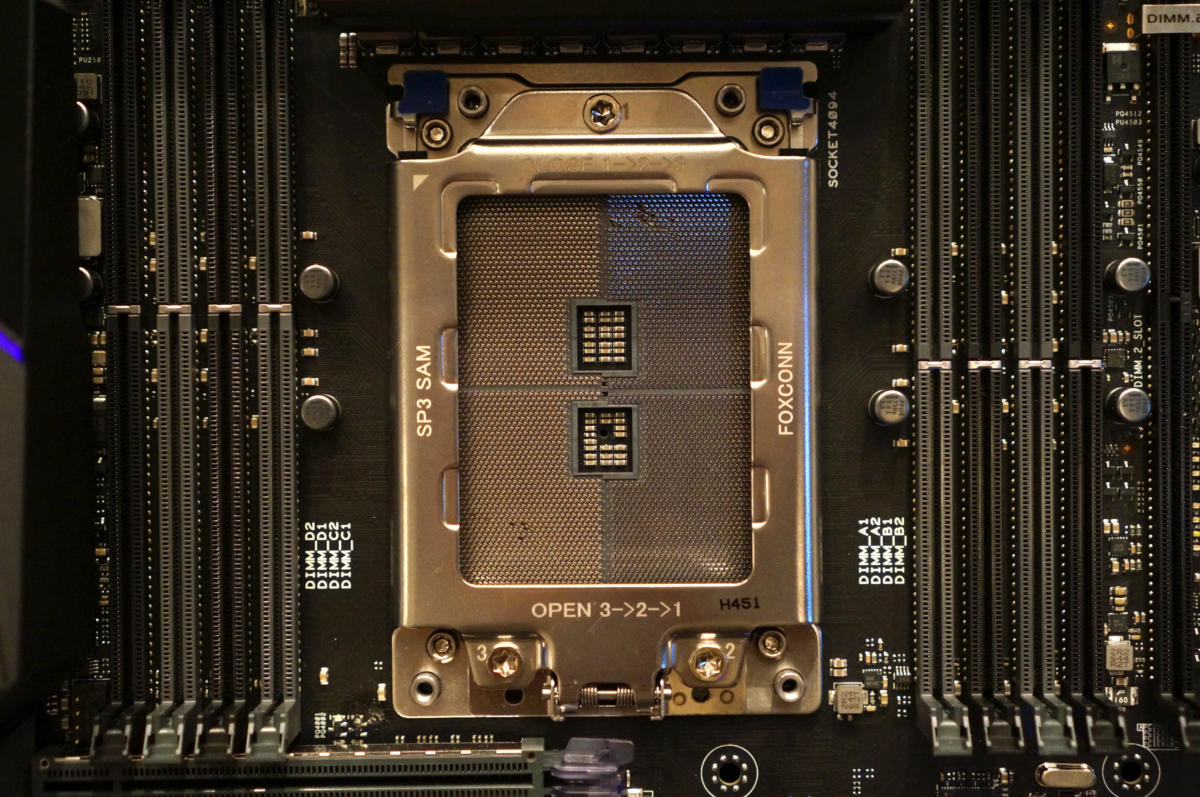 It will support up to 1TB of RAM
No, we're not kidding. Threadripper shows its server roots and will be able to support up to 1TB of RAM if you populate all 8-DIMM slots with 128GB LR-DIMMs or Load Reduced DIMMs. Unlike today's Registered DIMMs that use a chip to redrive some of the signals to the memory directly from the CPU an LR-DIMM uses a memory buffer to re-drive all of the data and instruction sets.
None of this comes cheap though. A single 32GB LR-DIMM  DDR4/2133 module costs $1,100, so you can imagine how much a 128GB LR-DIMM will cost when available.
And yup, if you guessed, the typical person doesn't need 1TB of RAM, but in the "look what I could if I wanted to category," it's a major bragging point.
This factoid was actually noticed by Anandtech in a video Alienware published last month.